Biodegradable compostable adhesive tape manufacturers |YITO
Detalye sa Produkto
Kompanya
Mga Tag sa Produkto
Wholesale Biodegradable Compostable Adhesive tape
Ang cellulose mao ang panguna nga sangkap sa papel, karton, ug mga tela nga hinimo sa gapas, lino, o uban pang mga lanot sa tanum.Gigamit usab kini alang sa paghimo sa mga lanot, pelikula, ug mga derivatives sa selulusa.
Ang Cellulose Tapes kasagarang gigamit sa balay ug sa trabahoan, ug kini nahimong paborito sa mga kustomer sulod sa daghang katuigan.Cellulose tape cello tape mao angusa ka tin-aw o translucent cellulose acetate film nga adunay sapaw sa usa ka rubber/resin based solvent o acrylic based adhesive.Aplikasyon alang sa Cellulose Tape.Cellulose tape gigamit alang sa kinatibuk-ang packaging, sealing ug splicing aplikasyon.
| | |
| --- | --- |
| butang | Cellulose Adhesive Cello Wrap Gum Rolls Tape Jumbo Roll cellulose tape |
| Materyal nga | selulusa |
| Gidak-on | Custom |
| Kolor | Bisan unsa |
| Pagputos | kolor nga kahon nga giputos sa slide cutter o customized |
| MOQ | 300ROLL |
| Paghatud | 30 ka adlaw kapin o kulang |
| Mga sertipiko | FSC |
| Sample nga oras | 10 ka adlaw |
| Feature | 100% Compostable ug Biodegradable nga hinimo sa kahoy |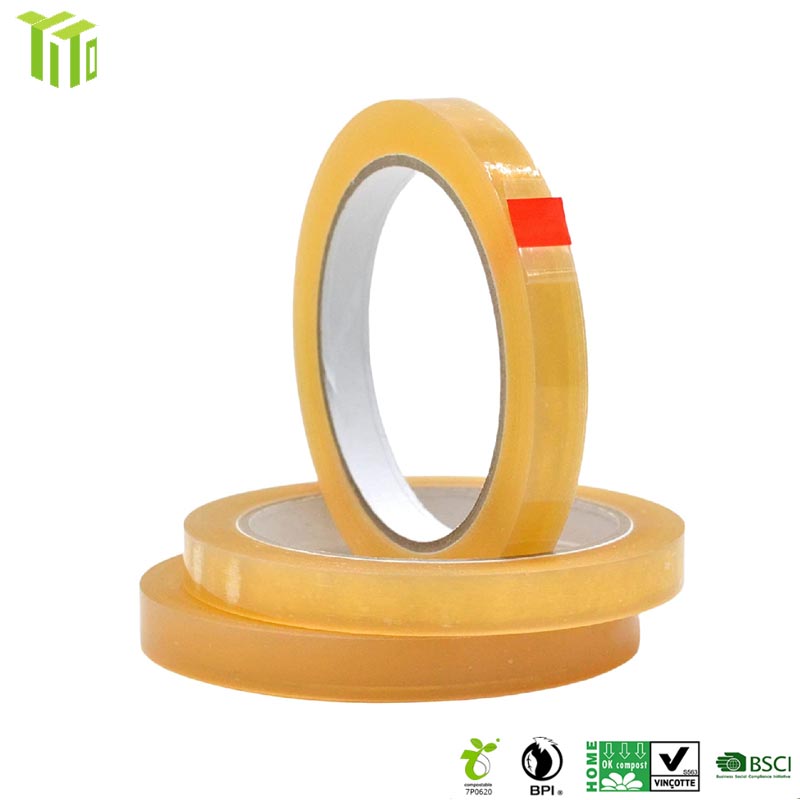 Biodegradable nga Packing Tape
Ang YITO Biodegradable Cellophane Adhesive Tape gisunod sa nagpadayon nga pilosopiya sa pagpanalipod sa kalikopan sa 'Biodegradable, Recyclable, Gas-to-Water, Environment-Centered' ug ang pagtuo sa kaluwasan sa 'Low-noise and Static-free' nga gisugyot sa gobyerno .Ang regenerative cellulose film, nailhan usab nga 'cellophane', gigamit isip carrier ug gitabonan sa eco-friendly nga water-activated pressure-s.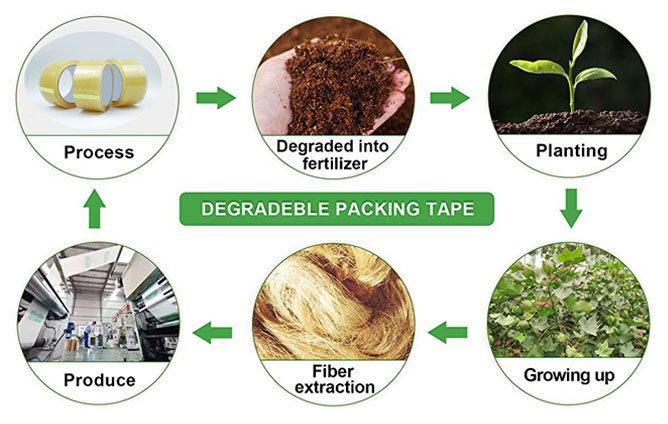 Kami usa ka ECO nga mahigalaon nga biodegradable nga mga Manufacturers & Suppliers, nagtukod og circular nga ekonomiya, nagtutok sa mga biodegradable ug compostable nga mga produkto, nga nagtanyag sa customized nga biodegradable ug compostable nga mga produkto, Competitive Price, welcome to customize!
Gipakita sa mga pagsulay nga ang cellulose packaging nag-biodegrade sa28-60 ka adlaw kung ang produkto wala'y sapaw ug 80-120 ka adlaw kung adunay sapaw.
---
---
May Kalabutan nga mga Produkto